FOREIGN BODY SENSATION & JUSTIN MARANGA - Subterranean Environments [cassette]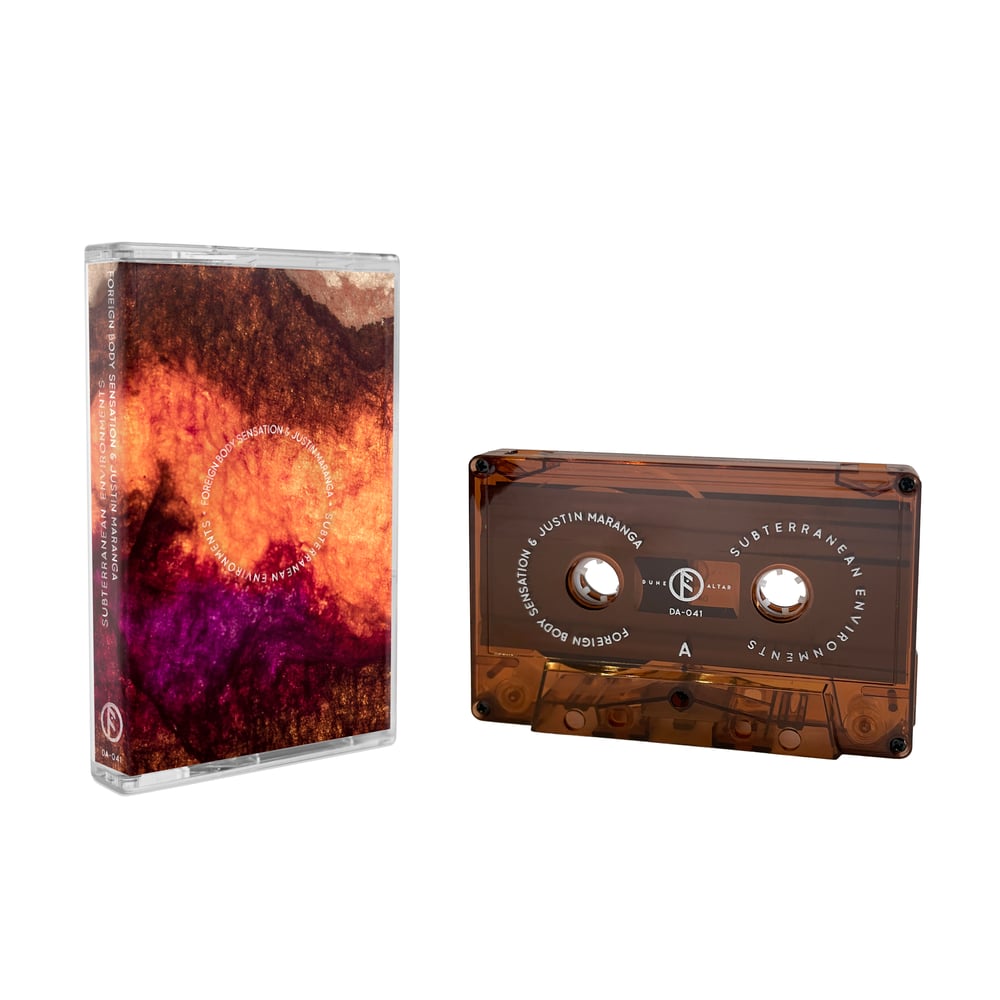 the debut collaboration between...

FOREIGN BODY SENSATION & JUSTIN MARANGA
Subterranean Environments
translucent earth cassette (ltd to 50)

a1. Bioluminescent Synesthesia
a2. Cenote Meditation
b1. Dream Cave Floating Photo Double
b2. In the Lair of the 5-Sided Serpent [feat. Mollie Weaver]

Scanning the airwaves to see if anything or anyone's left. Dark stillness. Dystopian calm. Like awakening to find the world has ended. Twinkling fireflies of smoldering fragments set aloft on a hot breeze. This is merely the beginning of the journey that is Subterranean Environments, the first collaborative release from multi-instrumentalists Justin Maranga (Dune Altar, Ancestors, Night Horse) and Foreign Body Sensation. The album is an instrumental journey through infernal atmospheres via hypnotic ambient textures and haunting melody.
FOREIGN BODY SENSATION mastermind Louie Schultz has acquired a lifetime's worth of musical experience, having honed his pop sensibilities in the bands Army Navy and Nightjacket, and in his almost 20 years as a music editor and composer, collaborating with the likes of Mark Mothersbaugh, Cliff Martinez, Terrance Blanchard, and Paul Haslinger. In fact, it was while working with Haslinger -- a former member of Tangerine Dream -- that Schultz turned full force to his love of analog synthesizers (he claims to now have a collection of around 40 synths at his disposal). Fickle, yet capable of generating an almost endless array of textures and sounds, Schultz took his time not only discovering the unique capabilities of each machine but integrating them into his compositional process; a symbiosis that deepens with each recording.
Throughout his 15-year tenure as founding member and guitarist of Los Angeles progressive post-doom titans Ancestors, JUSTIN MARANGA became known for creating vast sonic landscapes at near-deafening volumes. He and Schultz met while they were both backing LA songwriter Isla June, and the pair bonded over their musical synergy, their expansive tastes, and their particular love of ambient and instrumental music. Maranga runs the eclectic record label Dune Altar, an extension of his endless love for the craft and community of music, working with artists as wide ranging as Faetooth, Glaare, Collapsing Scenery, The Lungs and many more. He continues to expand his craft for his first release under his own name, and the first of what promises to be a series of releases in collaboration Foreign Body Sensation.
FFO Harold Hudd, Brian Eno, Robin Guthrie, Loscil, Huerco S, Tycho, Kaitlyn Aurelia Smith
All orders ship out at least once-a-week. Your patience is appreciated. If you have any issues regarding your order, please feel free to contact us via email at [email protected].